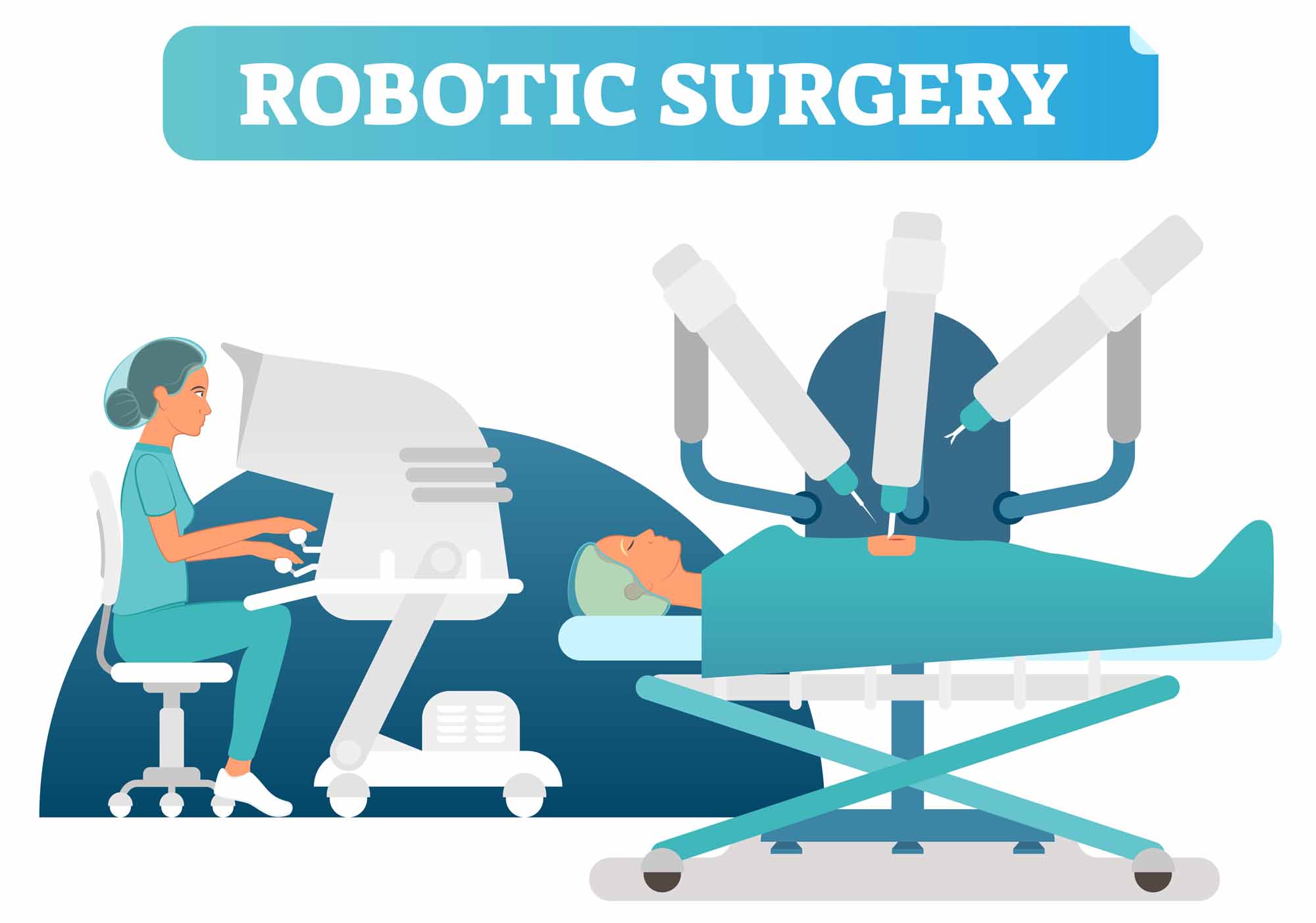 Modern technology has brought us amazing things today, especially in the fields of medicine and surgery. Surgeons today are immersed in a technology-driven profession that has paved the way for successful surgical procedures and even cancer treatments. The FDA first approved robotic surgery in 2000.  It has always been quite popular for procedures in the fields of urology and gynecology, and over the last few years, it has become even more useful in the field of general surgery.
From open surgery to laparoscopic surgery, surgeons can perform various types of complex surgeries with precision, control, and flexibility. However, robotic surgery, one of the most advanced surgical techniques used today, has significantly benefited the treatment of hernia. Although hernia treatment also includes open and laparoscopic surgery, studies have proven that robotic surgery performed on people with a hernia, achieves more accurate results.  More than six million robotic surgeries have been carried out worldwide.
Merits of Robotic Surgery
Robotic surgery allows a better range of motion for robotic surgeons. In fact, the robot assisted system enhances control, flexibility, and efficiency. It is also a minimally invasive technique that provides the following benefits:
Fewer infections, hence, fewer complications
Less pain
Less scarring through tiny incisions
Faster recovery
Find out more about Robotic Surgery when you call to schedule an appointment
Da Vinci Robotic Surgery
The term "robotic" can be misleading since robots do not perform surgery. Robotic surgeons control each move of the robotic instruments.
The essence of robotic surgeons is presented by the robotic arms of the da Vinci, with surgical instruments attached to them. One arm is devoted to a camera to be able to see the actual procedure. This camera has a binocular lens that provides a three-dimensional picture for the surgeon to view.  The da Vinci technology is a robotic surgical system that was invented to help facilitate complex procedures inside the operating room. It was one of the first robot assisted systems to gain clearance from the Food and Drug Administration (FDA).
In the operating room, the surgeon controls the robot assisted system through a console near the operating table. The images are displayed in high definition 3D mode to enhance vision and clarity during surgery.
This minimally invasive technique only needs tiny incisions on the abdomen to allow the penetration of the laparoscope. The robotic surgeon will carefully stitch a layer of mesh under the hernia to strengthen it or prevent a recurrence.
Robotic surgery can be for everyone
While robotic surgery is not an option for everyone, the benefits of such techniques are far better compared with other types of hernia surgery. Robotic surgery covers a wide range of conditions that can be treated through this minimally invasive procedure.
Best Robotic Surgeon
A native Texan, Dr. William Clay Albrecht, MD, FACS is a nationally recognized and board-certified robotic surgeon who performs minimally invasive laparoscopic surgery and robotic surgery to treat different cases of hernia, colon and small bowel, while also performing surgery for a variety of soft tissue diseases and skin lesions. Dr. Albrecht earned his degree from The University of Texas Medical School in Houston and had general surgery training in Arizona.
From the inception of surgical robots, Dr. Albrecht believed in the promising capabilities of robot assisted surgery and that it can surpass the limits of conventional laparoscopy. He has performed thousands of surgical procedures and received exceptionally positive feedback from his patients. It earned him the reputation for his accuracy and safety in performing the most complicated cases of hernia surgery.
Track Record
Given the sophistication of the process, people should look for reliable surgeons to perform such surgery. That is why individuals should research the successful operations undertaken by robotic surgeons. Notably, Dr. Clay Albercht, MD, FACS, a robotic surgeon has proven, without a doubt, that he can perform the surgery.
Aside from the excellent surgical skills, this robotic surgeon is trained in proper patient care.
Patient-oriented Treatment
As stated earlier, people may require robotic surgery for various issues. A professional robot assisted surgeon should take his or her time to study the unique situation of each patient Luckily, Dr. Albrecht is hailed for spending quality time with each patient, making sure not to make them feel rushed.
Robotic Surgery with Dr. Clay Albrecht, MD, FACS
From the excerpt above, it is crystal clear that robotic surgery is taking center stage in the medical world. For those that require specialized hernia repair surgery, they should not shy away from getting in touch with the best robotic surgeon in Katy.
Read More
Robotic Inguinal Hernia Surgery
This is an improvement on the traditional laparoscopic inguinal hernia surgery. Two methods exist, TAPP (transabdominal preperitoneal) repair and TEPP (totally extraperitoneal) repair surgery.  Dr. Albrecht has performed laparoscopic/non-robotic surgery by a TEPP approach for many years but has found many advantages over this approach by employing a robotic TAPP approach. It involves three 8 mm incisions in which the robotic instruments are placed.  The groin hernia is easily identified, and the hernia defect is repaired by placing a mesh in the preperitoneal location. It means the mesh is behind the muscle, but not inside the abdominal cavity and safely protected from the abdominal contents.
Robotic Repair of Hiatal Hernia with Nissen Fundoplication
For people with severe reflux or large hiatal hernias, robotic surgery is the preferred method.  In this procedure, the stomach is gently reduced from the chest and brought back into the abdominal cavity. The hernia sac is then excised after the anatomy has been well delineated.  The crura, or muscular edges of the diaphragm, are sutured closely around the esophagus to prevent hernia recurrence. Additionally, a fundoplication is done, which involves plication or wrapping of the stomach around the gastroesophageal junction to prevent reflux.  This surgery usually lasts one to two hours and requires an overnight stay, with most patients being discharged home the next day.
Robotic Ventral and Incisional Hernia Repair Surgery
The advantage of this surgery not only includes better visualization but the ability to suture or sew the edges of the abdominal wall defect (hernia) back together.  It is then reinforced with a mesh which is carefully sutured to the inside of the abdominal wall.
Robotic Cholecystectomy
Very similar to traditional laparoscopic cholecystectomy, robotic gallbladder removal affords the surgeon extreme precision and visualization of the surgical field.  The use of ICG (indocyanine green) and Da Vinci FireFly fluorescence imaging has allowed surgeons to visualize the biliary tree in a whole new way, thus reducing error and improving outcomes. It is usually an outpatient procedure that takes less than one hour to complete.
Bowel Surgery
Robotic surgery is also perfectly designed for gastrointestinal procedures, including small bowel resection, colon resection, appendectomy, gastrectomy, treatment of gastric outlet obstruction as well as feeding tube placement and lysis of adhesions.  This can be done for a wide variety of ailments, including but not limited to tumors of the intestinal tract, diverticulitis, appendicitis, gastric cancer, or bowel obstruction. Removal of adrenal masses and splenectomy are also well suited for a robotic surgical approach.  Using a minimally invasive approach paired with the latest technology has proven to provide the best patient outcomes.
Additionally, there are many conditions that do not require the use of the Da Vinci surgical system, and Dr. Albrecht is well versed in the surgical care of a variety of these conditions.  These include but are not limited to a variety of skin lesions, benign and cancerous, soft tissue masses, portacath placement, excision of pilonidal cysts and hidradenitis.
Locations
Dr. Albrecht has performed robotic surgery with excellent success in the following areas:
Memorial Hermann Katy Hospital
23900 Katy Fwy, Katy, TX 77494
Methodist West Hospital
18500 Katy Fwy, Houston, TX 77094
Memorial Hermann Memorial City Hospital
921 Gessner Rd, Houston, TX 77024
Each of these hospitals has received recognition from healthcare professionals and patients alike for outstanding service and patient satisfaction, and Dr. Albrecht is proud to have surgical privileges at these three convenient locations.
Schedule an appointment with the best robotic surgeon in Katy, Tx