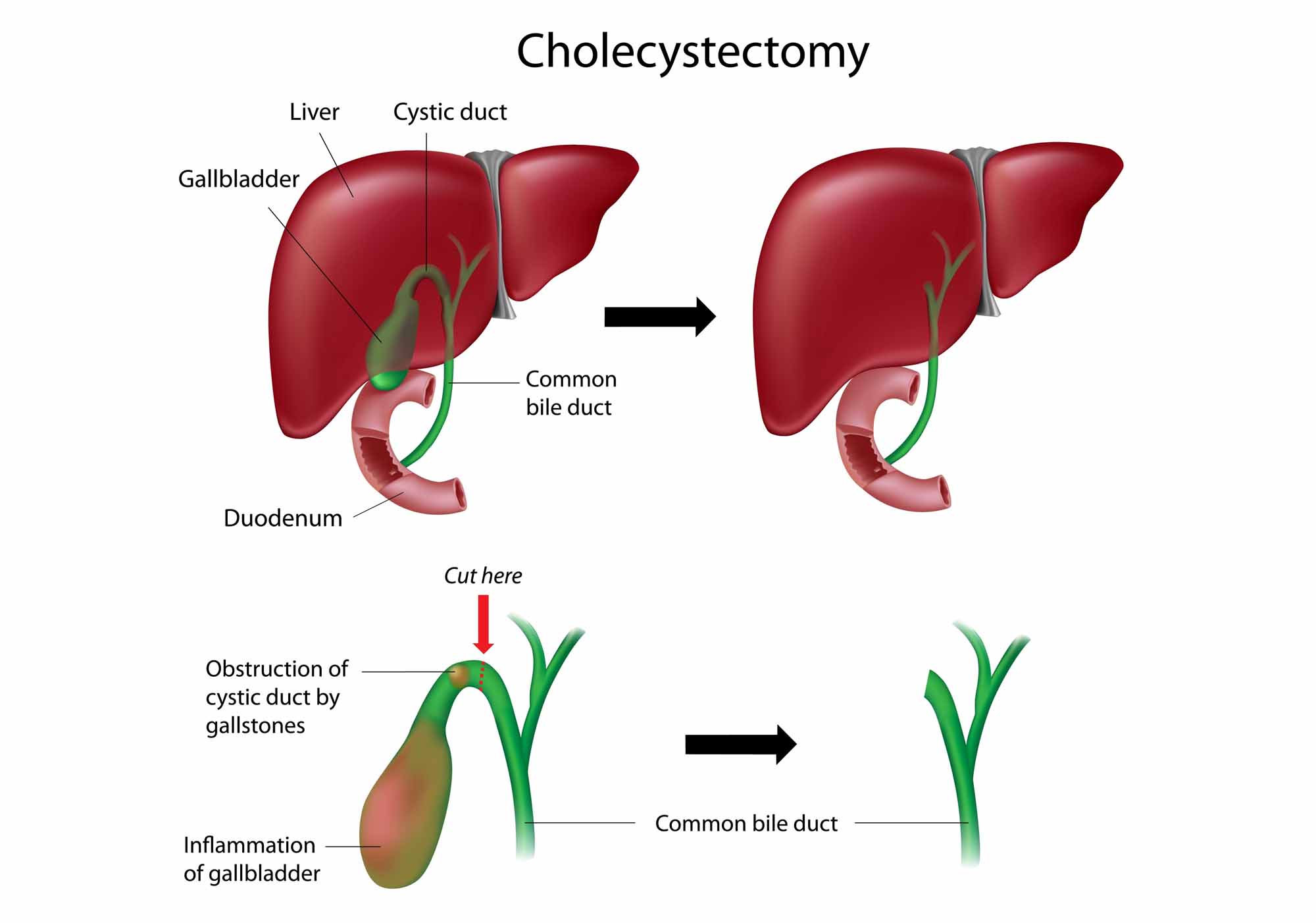 The gallbladder, located under the liver, is a small but essential digestive part that plays a vital role in breaking down food. The gallbladder's primary function is to store and concentrate bile produced by the liver. Bile functions to digest fats and then stores it in the gallbladder. During the intake of fatty foods, the gallbladder squeezes bile out through the duct and into the small intestines.
Gallstones, which are typically composed of cholesterol, can occlude the gallbladder and prevent it from emptying. This can cause pain, nausea, and even infection. For many years, a person may not notice the presence of gallstones because there are no symptoms. But when they start to block the bile ducts and become symptomatic, gallbladder removal (Cholecystectomy) is the recommended treatment approach.
Know more about Cholecystectomy when you call Dr. Clay Albrecht
Causes of Gallstone Formation
Weight

. Obesity plays a significant role in the development of gallbladder problems.

Genes.

Some illnesses run in the family. This is also true of gallbladder disease.

Gender. Women have a higher risk of developing gallstones compared to men. This is because women tend to produce higher levels of estrogen during pregnancy thereby increasing cholesterol in the bile, therefore the potential to form gallstones is high
Race/Ethnicity. Different regions in the world have different dietary behaviors aside from lifestyle and personal choice. Typically, people on the American continent have the highest risk of developing gallstones.
Gallbladder Surgery
There are three ways of gallbladder removal (Cholecystectomy): open surgery, laparoscopic surgery, and robotic surgery.
What is Laparoscopic Gallbladder Surgery?
This type of surgery is the process of gallbladder and gallstone removal through several small incisions in the abdomen. This is the most common and most recommended option for treating gallstones. Gallbladder surgery using laparoscopy is much preferred to open surgery. It is more convenient, has less risk of bleeding and infection, less pain, fewer complications and a quicker healing period. This type of surgery typically takes less than one hour and is done in an outpatient setting (patient can go home the same day).
How is Open Surgery carried out?
The surgeon performs open gallbladder removal surgery through a single, large incision in the patient's abdomen. When this type of surgery is performed, it usually lasts about an hour or two.
Surgeons often perform open gallbladder surgery in patients who have first undergone gallbladder removal surgery using laparoscopy. There are only a few cases in need of open surgery such as when laparoscopic surgery is not working effectively.
What is Robotic Surgery?
Another minimally invasive gallbladder surgery that takes advantage of modern technology is robotic surgery. This single-incision robotic-assisted procedure can have a patient's gallbladder removed in less time than keyhole surgery or open surgery. Robotic surgery offers minimal patient discomfort and a nearly invisible scar.
Before any surgical removal of the gallbladder or Cholecystectomy is performed, the doctor may recommend that the patient undergo a special X-ray called Intraoperative Cholangiography, a technology able to capture the anatomy of the bile ducts.
How long does it take to recover from gallbladder surgery?
Recovery time for gallbladder surgery depends on whether a patient has undergone laparoscopic gallbladder surgery (keyhole) or open surgery. Usually, keyhole surgery patients can leave the hospital on the same day of the operation. However, the healing period typically takes about two weeks before patients can return to their normal routine.
For open surgery patients, a period of three to five days in the hospital is advised. The recommended recovery time for this surgical procedure usually takes longer, about six to eight weeks.
Gallbladder Surgery with Dr. Clay Albrecht
Seek only the likes of Dr. Albrecht's service, who is a highly skilled robotic surgeon, with many years of experience in the field of laparoscopic cholecystectomy and its surrounding conditions. Accuracy in surgery can only be achieved by the best gallbladder surgeon with an outstanding safety record. Dr. Albrecht exemplifies precision and excellence with his proven safety record and good rapport with his patients, and he keeps this integrity in all aspects of his professional life.